Plenary Room

The Seminarhouse is located in our ground floor. We provide 5 sleeping rooms and up to 32 sleeping places, 1 big kitchen furnished with all necessitiies, 1 bathroom with 2 toilets of which 1 is suitable for wheelchair users and 2 showers, 1 common room with which can be used as dining and working room and 1 huge room with a piano that can be used as dormitory and has also a childplay area.
Body & Mind

Beside the ground floor, we also provide a big room with projector and table tennis in the cellar and the Aula in the 1st floor. This space is wheelchair accessible through outside ramp.
Cooking & Self-Catering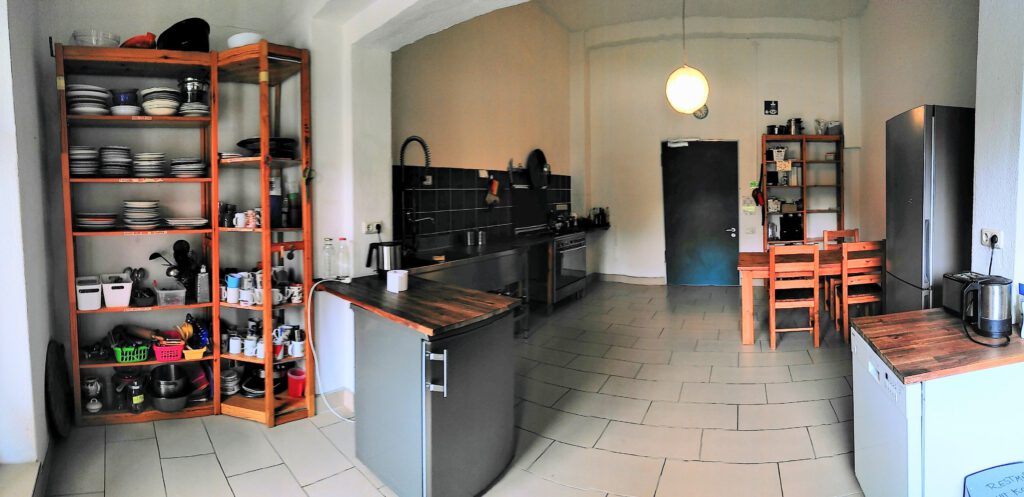 From the kitchen you have access to the wooden terrace which is ideal for meeting and eating. Infront of it, there is a parkwith big trees, a campfire place and playground stuff for smaller children. The forest is 5min walk from here.
Wheelchair Accessibility
We have 1 outside ramp that goes to the maindoor of the Seminarhouse, 1 outside ramp that goes down to the big room in the cellar, to access the Aula in the 1st floor we have a lift.
Surroundings
Arruda is surrounded by nature which means that the soundscape is calm.
Practical Information about the area
The next supermarket are in:
• Bad Freienwalde (7km) – Kaufland, Aldi, Netto, Rossmann
• Eberswalde (12km) – organic store, DM, Rewe, Lidl, Rossmann,..
• Falkenberg (2,5km) – has a very small Lotto with post service + tabacco
• Dannenberg (2km) – Biohof with regional products (fresh cow milk,bread, eggs, different kind of meat)
Lake
The Gamensee is 3km away on the road direction South West (Dannenberg), or a walk/cycle through the forest (see map).
Trains and Buses
NEB Trains go from "Falkenberg/Mark" (which is 3km away and a 30-40 minutes walk). The road is quite narrow and there are barking dogs. If possible, stay on the right side so car drivers can see you easily.

Payment
For booking we ask each person to pay on a sliding scale system:

Kids until 3 years: free
Until 14 years: 10 – 17.50€ (+7%)
From 14 years on + adults: 20 – 35€ (+7%)cover the costs for water, gas, electricity, heating and maintenance for one person and night.
Camping: 10€ (+7%) per person and night

We want to enable everyone to visit Arruda regardless of financial privileges or resources. Therefore, we encourage individuals and groups who have easier access to financial resources to pay more than 20 euros. By doing so, you enable individuals and groups with smaller wallets to pay less than 20 euros.
However, this flexible funding system only works if we receive enough donations and enough users* pay soli prices when they can. This concept builds on the will to take responsibility as community care. Thus, at least on this level, we escape the capitalist logic of exploitation and try to decouple the good or service from its market value.
Cleaning
We don't have a cleaning service. So, each group needs to clean properly after their stay. Self organize your cleaning and leave the house as clean as possible. And if you can leave it better than before so we don't have to clean after you.
Feedback & Suggestions
We are in an ongoing process to improve our space regarding accessibility in any way.
We are open and thankful for any kind of suggestions, feedbacks and questions.
For sending booking requests please click here.